Who is Z-Band, Inc.?
Z-Band is a Veteran-Owned Small Business that sells the industry leading RF Broadband Video Distribution System that broadcasts CATV/HDTV, satellite, internally generated video, and other video-on-demand (VOD) services over twisted pair/Category cable.
The full bandwidth of Analog, Standard Digital, and High Definition video are available over CAT 6 cable at 90 meters from the data closet to the drop plus an additional 10 meters for connections on both ends. When using CAT 5e the system is capable of distributing 750 Mhz to a distance of 100 meters.
Learn More About Us
FEATURED PRODUCTS

Remotely Powered Balun
Learn More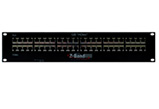 Video Distribution Hub
Learn More
LATEST BLOG POST